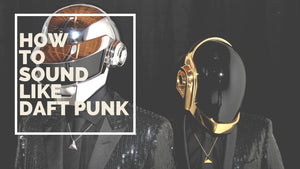 How to sound like Daft Punk
In this tutorial we wanted to recreate the sound of one of our favorite bands of all time Daft Punk, since we can remember they have always been a point of inspiration for us from their work on the soundtrack of "Tron" to the classic album Random Access Memories or their sampling techniques on songs like "One More Time" and "Digital World", and from all its extensive catalog we chose the songs that have influenced the most our production and sound design.
Also this article was possible because all of the presets from this breakdown came from our Nu Disco Serum pack which has 20% off with the code SP01.
RELATED BREAKDOWNS
- Dua Lipa & Elton John "Cold Heart" Breakdown
- Miley Cyrus "Flowers" Breakdown
- Harry Styles "As It Was" Breakdown
So to make the Derezzed lead sound we use a Pulse wave in our sub-oscillator, a PMW Reso in oscillator "A"  and a Saw wave in oscillator "B", all oscillators are being processed by the filter formant II and the cutoff and resonance is being modulated by LFO 1 and LFO 2, LFO 3 is modulating the wavetable position of our oscillator "A", also the filter is at around 50%.
But to get this sound correctly we have to go to the FX Tab, to get that dirty sound, we need to add distortion and put it to the maximum and the final touch is to use a phaser which is being modulated by LFO 2 and just add delay and reverb to taste.


Who doesn't love this song? What a great homage to one of the biggest icons of electronic music, that to tell your story throughout a song made for you by Daft Punk.
First, we need a Pulse wave in the sub-oscillator, a Basic Mini in its first wavetable position in oscillator "A" and a Saw wave in oscillator "B" each oscillator have 7 voices slightly detuned and our envelope 2 is modulating the cutoff of our filter.


In this preset the FX tab is also vital to the sound design, we need to drench the sound with a phaser and a flanger, and modulate the phaser frequency with our LFO 1 and add distortion to get that crunchy sound.
In this track we leave the electronic side and lean more in the organic side of Daft Punk, this doesn't mean we can't recreate them in Serum, so let me show you how.
For the lead part, we are recreating a flute sound so we need a Sine wave in our oscillator "A" and a Analog_BD_Sin in our oscillator "B", if you notice our oscillator "B" is only working to give some Frequency Modulation to our oscillator "A" giving to the sound more harmonics to work with, everything above 2.2 kHz needs to be cut by the filter and add a little resonance on that frequency as well.
The other part to get this sound right is in our envelope 1, the presets needs to have an attack around 320 ms and a decay of 2.65 s, and the last touch is a little modulation on the level of the oscillator "A" with our LFO 3
Now for the organ type sound we need a Sine wave in the sub-oscillator, a FFT_Add_2nds in oscillator "A" in its wavetable position number 30 and a Basic Mini in its second position in oscillator "B", the cutoff of the filter should be at 450 Hz and the resonance around 25%, now go to your FX Tab and the Hyper Dimension effect at 50% to get it to sound wider and bigger.
If you have already arrived here and you haven't get our free serum pack inspired by Daft Punk called
"Around The World"
get it now.