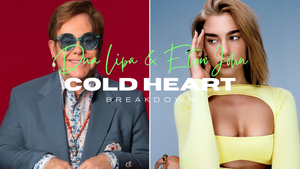 Dua Lipa & Elton John "Cold Heart" Breakdown
Just a year ago, Dua Lipa and Elton John gave us something that we did not expect to happen a collaboration between the two called Cold Heart, but this was made with the help of the electronic duo PNAU who made a remix merging four songs that the British rock star recorded between the 70s and 80s; and then Elton John and Dua Lipa added their voices to make the song an instant hit, the songs used to make this track are Sacrifice, Rocket Man, Kiss the Bride and Where's the Shoorah?,but enough of introductions let's start this tutorial.
This article was possible because all of the presets from this breakdown came from our Future Disco Serum pack and it has have 20% off with the code: BP01
RELATED BREAKDOWNS
- Miley Cyrus "Flowers" Breakdown
- Charlie Put "Light Switch" Breakdown
- Harry Styles "As It Was" Breakdown
Lets start with the driving force of the track "The Bass" and i know by itself it doesn't sound that great but that's because is layer with a guitar that makes this progression to sound more organic and less aggressive, to make this bass we need a PMW Weird in oscillator "A" and a Sine wave in oscillator "B" with some FM coming from oscillator "A", both should have only 1 voice and envelope 1 shoud be modulating the cutoff of the filter with a decay at around 380ms.
When we recreate a guitar sound in this breakdowns what we normally do is to use the noise as a sampler and add a one shot of a guitar into it, but on this occasion, we did something different this time we created our own waveforms, the only thing you have to do is import your audio to the oscillators and choose import constant frame size, now to give some movement to the wavetables we use LFO 1 to modulate their position so its sounds as natural as possible.
This brass sound is at the beginning of the song in the first four bars it has a low cut filter cutting everything below 450Hz, after that the filter turns off and you can hear the preset in its full glory, you need an ICanHasKick in oscillator "A" and a Basic Shape in oscillator "B", now to make the characteristic brass sound you need your envelope 1 to modulate the cutoff of the filter and to have an attack between 60 and 100 ms
Once the verse starts this element serves as a layer to give body to the brass sound, so to make this preset we need a Reese waveform and an Anti-Statis in our oscillators give them 5 to 6 voices, and modulate the amplitude of the incoming signal with an LFO after that use your filter to cut everything above 6kHz and crank the drive up to give a little warmth and body to the sound.
I have to be honest, this was my favorite part to recreate, this sound is quite interesting, to make this sound we need a "IHasCanKick" on oscillator "A" and a Basic Shape on oscillator "B", after that give each oscillator 6 voices to make it sound wider and use envelope 1 to modulate the level of the oscillators.
Now for the interesting part we need in the Fx tab to have a delay with 1/64 notes, the feedback should be above 50% but the most important part is to use the Tap Delay mode, this will make the effect to start after the original sound is played.
Now for the final part of the track we need to do this bell, this preset needs to be shiny and to achieve this use a Ring wavetable and a Shrats wavetable, use an Allpasses filter and cut all the low end, add some reverb and delay to taste and thats all.