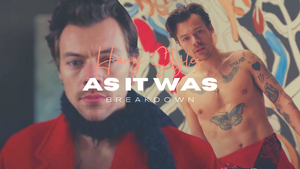 Harry Styles "As It Was" Breakdown
In this Serum Tutorial, we are going to breakdown one of the biggest songs of 2022, this track was released the 31 March 2022 as the lead single from his third studio album, Harry's House, this album is filled with different genres from Dreampop, R&B and Synthpop, it even debuted at number 1 in the Billboard 200.
This body of work is extremely intimate and an invitation to delve into a perhaps more personal facet of Harry but also shows us something we love about Harry's work and that's that he has never been typecast into a specific genre.
Before we get started with this tutorial there is a little disclaimer, the fact that this song mainly uses mostly organic instruments we were faced with a problem which we had to solve using a bit of sampling and creating our own waveforms, which we will teach you how to do it, so let's get started.
BONUS - You can download all the midi files from the session at the end of the tutorial.
This article was possible because all of the presets from this breakdown came from our Dreampop Serum pack and it has have 20% off with the code: SP01.


RELATED BREAKDOWNS
- Dua Lipa & Elton John "Cold Heart" Breakdown
- Charlie Put "Light Switch" Breakdown
- Miley Cyrus "Flowers" Breakdown
Let's start with the most recognizable part of the song the main synth riff, to recreate this preset we need a Matrixy C64 in oscillator "A" with one octave up with 5 voices and in oscillator "B" we need a DS Saw and Tri with 9 voices, envelope 3 has a decay of 400ms and is modulating the noise oscillator, the cutoff filter and the wavetable position of oscillator "A", in the FX tab add a little high end with the EQ and add reverb and delay to taste and that's it.
Now is time to recreate the running bassline, let's start by choosing an ICanHasKick in oscillator "A" with 1 voice in oscillator "B" and use an SQR_SAW_Wrd wavetable in its first position, now use a Band 12 filter with the cutoff at 90Hz so you can have a boost in the low end, and envelope 1 should have a decay of 700ms and should be modulating the level of the 3 oscillators.
Now for the fun part of this preset in the FX tab add some distortion with a multiband compressor cutting all the high end and finally with an eq boost everything below 2 kHz.
The time has come to use Serum as a sampler, what we did first was to create the sound of the main guitar of the song with a telecaster then we run it through some pedals and just recorded a C note with a long tail, after that, we imported it into the noise oscillator and enable the pitch tracking and the one-shot mode, then to add a little body to the sound we use a Sine wave in oscillator "A" and an FM Freak in oscillator "B" both with FM modulation from the noise oscillator, now for the final touches we routed the velocity to the level of all oscillators so you can have the little variations and nuances like a guitar player would.
We warned you that this tutorial was going to be a little different, yes we know that recreating the sound of a guitar in a synth is hard if not impossible and that's why we are using serum as a sampler but this time we are also creating are own wavetables, first you have to add your one shot like we did with the other guitar (record a C note of a palm mute add it to the noise oscillator and enable pitch tracking and the one-shot mode)
Now that that is done let's create some wave tables to improve our sound, the way we like to do this is to drag it onto our big wave editor, first we click the pencil in the oscillator this will open the table edit in there you will import your one shot using the option fixed frame size, after that use LFO 1 to scroll your wavetable position as shown in the image above.
Now let's return to the world of synthesis and let's leave the sampling alone for a minute, this sound enters in the pre-chorus to recreate this pad we have used a Basic Shape wavetable in its second position in oscillator "A" and an MB Saw wavetable in oscillator "B" with the position being modulated by envelope 2 the cutoff is being modulated by envelope 2 also which has decay around 1.5 seconds and a release around 1.5 seconds, the cutoff a is set to around 200 Hz with resonance at 15%, the sound is drenched with chorus, reverb and delay effects.
This pluck sound plays every time Harry sings "you know is not the same as it was" harmonizing the vocal melody, to be honest, its quite a simple sound To start making this preset, we use an FM Freak in oscillator "A" and a basic shape waveform in its first position in oscillator "B" this oscillator has some frequency modulation coming from oscillator "A" at around 10% this will make it sound a little brighter and airy.
Our envelope 1 is very important because it is modulating the levels of our oscillators and the cutoff of the filter and the shorter the decay in this envelope the pluckier the sound is.

We reached the final part of the song and of the tutorial on how to make "As It Was" by Harry Styles, and unfortunately we found ourselves needing to sample a church bell to get this sound right, so if you read the tutorial by this point I think you know how to do it, so now that we have our one shot ready in our noise oscillator, use an FM_ Freak in oscillator "A" and an FM_Splat in oscillator "B", with a decay in envelope 1 at around 350ms.
So if you read all the way through and you find yourself here at the bottom, we would like to share with you all the midi information from the session so you can make your own remake or remix, just go nuts and enjoy it.