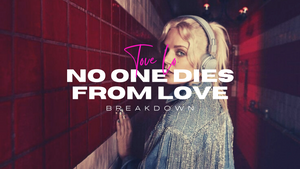 Tove Lo "No One Dies From Love" Breakdown
Tove Lo "No One Dies From Love" was released on May 3 of 2022, this song is an anthem to broken hearths as Tove Lo stated in an interview with Rolling Stones saying " I was inspired by overwhelming emotions post-breakup. When you're with someone for a long time and it ends suddenly, it's like a part of you has died, this person is now a stranger to you, all of the memories are tainted. For the first part of the breakup, you believe you're not supposed to feel good about anything you had together" after that she stated that she wanted to make a heartbreak song you can dance to and we can assure you she did it because this song is amazing, so in this tutorial, I'll show you all the sound design behind the track.
This article was possible because all of the presets from this breakdown came from our Dark Synthwave Serum pack and it has have 20% off with the code: DS01.
RELATED BREAKDOWNS
- Dua Lipa "Physical" Breakdown
- Miley Cyrus "Midnight Sky" Breakdown
The song opens with a brass type sound with a quite catchy melody, to make this preset we need an ICanHasKick in oscillator "A" the wavetable position around 60 and the warp knob is set in mirror and it is at 100%, for oscillator "B" we are using a Basic Shape in its second position. Now what makes this preset to sound brassy are 2 things the first is that the attack time in envelope 1 is at 60ms and that envelope 3 is modulating the cutoff filter and the attack is also opening at around 20 ms.
Now for the swiping bass that only enters in the first chorus, we used a Basic_Mg in oscillator "A" with a little FM modulation and in oscillator "B" we have an ICanHasKick, now to make the sweeping sound we need 2 things the first one is our envelope 2 to modulate the cutoff and the resonance, the resonance should be at around 40%.
Now the second thing you need is to go to the FX tab and we are going to boost some frequencies and sweep them with envelope 3.
This stabbing kind of bass is fundamental for synthwave and we have done it a few times in other tutorials but this one has a particular modulation making it sound as if were sidechained, to do this first we need a Basic Shape in oscillator A"A and an ICanHasKick in oscillator "B", now our envelope 1 is modulating the cutoff of the filter with a short decay at around 680 ms, now to do the sidechain effect route LFO 1 to you amp which is in your global tab and that's it.
This bell-type sound enters after the first chorus, in this part of the song everything but the voice has a high pass filter that is slowly opening, and this sound adds contrats because it sounds like its underwater which means a lot of the high end has been cut, in oscillator "A" we use a Harmonic Subtle one octave up and in oscillator "B" a FM_Splatn now our envelope 2 is modulating the cutoff filter.
This was my favorite patch to recreate, to create this preset start with oscillator "A" in a Basic Shape waveform in position 2 and for oscillator "B" use a saw wave, now our filter should be set in Formant III, all the parameters in the filter are being modulated by LFO 2 to give the patch a little movement, LFO 3 is sidechaining the sound and after that just add a 1/4 delay at around 40%.
This patch was so fun to make, so for this presets we used an SQR_SAW_Wrld in oscillator "A" and an ICanHasKick in oscillator "B" the finetuning in both oscillators is being modulated simultaneously by LFO 1 and LFO 2 at different rates making the detuning a little more random making the characteristic sound of this preset.