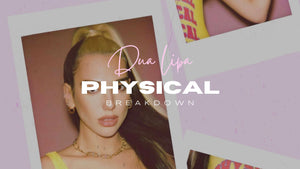 Dua Lipa "Physical" Breakdown
Here at Synth Ctrl We are fans of all kinds of music and we have to admit that Dua Lipa album Future Nostalgia was one of the best of 2019, with songs like Don't Start Now and Levitating she reached the top of the charts but the song that we love the most is Physical because it was strongly influenced by the music of the 80s, so we couldn't help ourselves and We decided to make this Serum tutorial on how to make all of the synth presets of Dua Lipa "Physical"
This article was possible because all of the presets from this breakdown came from our Dreampop Serum pack and it has have 20% off with the code: SP01.


RELATED BREAKDOWNS
- Miley Cyrus "Midnight Sky" Breakdown
- Tove Lo "No One Dies From Love" Breakdown
Let's start with the bass preset, this sound can be heard immediately when the song starts, it is the constant drive of the track since once this progression begins it does not stop until the end, to recreate it we used a Basic Mg in oscillator "A" and a Basic Shape in its second position in oscillator "B" to give a little more body to the sound our sub-oscillator has Triangle wave, our envelope 2 is modulating the filter cutoff so it closes fast with a decay time around 250 ms, and the filter has its resonance around 25% and its drive at 20%, add a little distortion and multiband compression in the FX tab and you are all set.
More than a lead this synth sound is a counter-melody that accompanies the vocals in the chorus, it works as a secondary melody giving a more complex texture to the track, for this synth sound we use a Jno wavetable in oscillator "A" with a ASYM -/+ at 99% (this bends the wavetable giving it a more characteristic sound) in oscillator "B" we are using a Basic Shape wavetabe in its second position with one octave up, now there are 2 elements that make this sound so lush, the first one is that our LFO 2 is modulating the levels of all the oscillators at around 2.7 Hz giving it a little tremolo effect as you can see in the image below.
The second element is the vibrato effect and to achieve this you need to route any LFO you want to your Master Tune, go to your  Matrix Tab and in the source part put the LFO of your choosing, and in the destination put Master Tune and use the amount you want we usually set it in 1 or 2, after that we drenched the preset in reverb.
The only instruments playing at the beginning of the song are the bass and this pad giving a lot of room for Dua Lipa's vocal to shine, this warm synth patch was made using an Analog_BD_Sin wavetable in oscillator "A" and a Basic_McB in oscillator "B", you need your filter to cut all your high end at around 450 Hz and your envelope 1 should have an attack time at around 500 ms.
The effect parts of this patch are very important because is what makes it sound wide and spatial so you need to drench it in chorus, reverb, and hyper effects.
The last instrument to enter this equation is a wide-chorus synth playing the full chord progression, so to create this sound from scratch we need a saw wave in oscillator "A" and an ICanHasKick in oscillator "B", now to give it that detuned sound we use two LFO at different rates and apply both to the fine-tuning in each oscillator, this will give a feeling of randomness to the movement of the sound, now for the final touch use a filter to cut everything above 4 kHz and add a little resonance