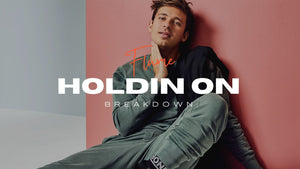 Flume "Holdin On" Breakdown
We are back with the last tutorial (for the time being) of the series dedicated to Flume, this time it is the turn to breakdown the song Holdin On.
This track which is a certified double Platinum, has always been one of our favorites among Flume's extensive catalog that's why we decided to make this breakdown however as simple as this track may seem, it hides several sound design tips that we think may be useful to all of you. 
All the presets came from our Future Bass Serum pack and they have a discount of 15% with the code FB01.
RELATED BREAKDOWNS
- Flume "Never Be Like You feat. Kai" Breakdown
- Flume "Insane feat. Moon Holiday" Breakdown
If you have read our previous articles, you may have already noticed that Flume loves to use Sinewaves for their introductory synths, always with small variations between them, this time it's a little darker with a lot of body and very little treble. 
This patch only needs oscillator "A" using an Analog_BD_Sin wavetable, the cutoff of the filter should be at 800 Hz and our envelope 1 has a 5 ms attack, a 1.2 s decay, and a 14dB sustain and is modulating the wavetable position of oscillator "A" and that's it.
We love making this patch, its quite simple when it comes to its waveforms but the magic is in the modulation, if you hear closely you will notice that the patch has some kind of shimmering effect and also is being sidechained and right now we will tell you how we achieve this.
First, we need a basic shapes waveform in oscillator "A" in its second position, and in oscillator "B" we need a saw wave, give four to six voices in each oscillator and detune them a little, everything is quite standard,  now we need envelope 1 to have an attack of 435 ms and a sustain of 0 dB, now for the shivering part, our LFO 3 is modulating the level of both oscillators at a rate of 32 notes.
Now we explained before how we use sidechain inside Serum, but let's show you this time, first, you have to make a sidechain form in an LFO (in this case its LFO 4) then you have to go to the matrix and apply it to the amp that it's in the global tab, like in the image below.
This was a challenge not because of the preset but because of the melody, so I'm going to teach you a tip that helps me to get that melody right, first, you need to insert the track you want to remix or remake in an audio track, then use the warp mode in complex pro and slow it around 20 to 30 BPM, this will make you hear each note with more clarity making it easier to recreate it.
Now for the sound design part of the arp you will need a squarewave in oscillator "A" and a sawtooth wave in oscillator "B", this time its the filter that is giving the characteristic sound to this patch, set the filter to Low 18, the cutoff to 1750 Hz and the resonance to 50%, now in the FX tab use a compressor with the multiband option on and bring up a little of the highs frequencies.
This preset took several failed attempts until we struck gold, to make this wobbly synth we need a PWM C64 wavetable in oscillator "A" and a Basic Mini in oscillator "B" both need to have only one voice this is important we will explain why later after this image.
Now the trick to make this sound wobbly its to use an LFO (in this case LFO 1) to modulate the size of the reverb but this effect is more noticeable when both oscillators only have one voice.
We love making this sound, we tried to emulate a Wurlitzer and I think we got pretty close, we started with a sinewave in oscillator "A" and a Kream wavetable in oscillator "B".
Now the trick to make this sound it's in LFO 3 that is modulating our level in both oscillators and the cutoff of our filter at a rate of 16th note, our filter it's LB 12 which its helping cut both the low end and the high end of the frequency spectrum.
This lead its quite simple but it plays an important part by giving the song a melody at the end to wrap thing up.
We use a Basic _Mdc in oscillator "A" around the middle of its wavetable position and for oscillator "B" we use a squarewave and our LFO 1 it's acting as a sidechain of the level of both oscillators and the cutoff of the Cmb HL6 filter.
If you read through it all, you deserve a freebie and we have one inspired by Flume and Mura Masa called
Skin
check it out.