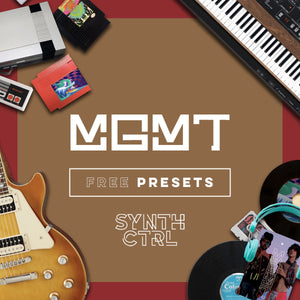 This Serum pack is inspired by MGMT, a band known for blending the lines between experimental and psychedelic pop also for being one of the largest exponents of these genres together with Tame Impala.
With this catalog of preset sounds, you will be able to recreate the classic sounds of their hit songs, Kids, Time To Pretend, Electric Feel from their album Oracular Spectacular and also their new songs Me And Michael, Little Dark Age, and even In The Afternoon.

What's included?
Fifteen presets that will allow you to continue the legacy of MGMT in your own songs.

Get all the midi from MGMT best songs - click here!
If you like this freebie check our Synthpop, Vaporwave and Chillwave premium packs for more than 125 presets each, they have 20% off with the code: VW01