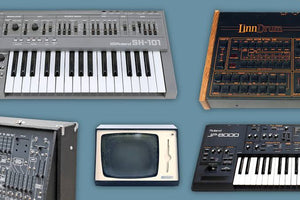 4 Tips to make serum sound more analog
Have you ever wish for your soft synth to sound a little more analog or vintage, like those 70s and 80s synths big and warm, maybe you want your synth to sound like a Juno or a Jupiter, well with this tips it will be easy, all tips, even we are teaching them in Serum can be applied in any soft synth like Massive or Spire, and they are used in our
Future Soul
,
Neo Soul
 and
Neo Funk
 Serum presets packs.
Enjoy 20% in all of our packs with the code: DC20
Let's hear the audios.
1.- Randomize the Phase
With this tip what we do when we randomize the phase is we create an imperfection that almost all analog synths have, to do this and to be truly random, you have to click the phase knob and go to the modulation section and choose chaos 1 or chaos 2, to set how much modulation you want you click the global tab and right there is the chaos knob and you can apply as many or little modulation you want.


2.- Juno 106 Chorus effect
If you know a little about this classic synth, you know it was famous for its chorus effect, so we have to go to the effects tab once in there the way I like to do it is to put the mix knob at 100%, put the chorus low pass filter at 20 kHz so it doesn't cut any of your high end, the depth knob at its maximum and the rate knob at .01Hz, the other knobs such as delay and feedback leave them at 0, and that's it, that's the way you get a very big chorus effect.
3.- Detune the Fine of the Oscillators.
I think of all the tips this has to be one of the most important if you want to get that vintage sound and that's because all analog synths work with circuits and some times the electromagnetic interference or the temperature make them fluctuates, to emulate this we go to the LFO section of Serum and make a curve like a sine wave and apply it to the fine tune of the oscillator is important to put the rate of the LFO in Hz and not bpm and set it around 2 Hz and 4 Hz, I like to use different LFO for each oscillator and set them at different rate to give them a little variation.
4.- Downsample Distortion
The distortion effect have an option called downsample, which is very
 similar to a bit reduction effect and what it does it reduces the number of possible amplitude values of a signal
, I personally choose the drive around 25% and the mix knob around 40%.